"The Janus Project"
"We look at the present through a rear view mirror. We march backwards into the future."
― Marshall McLuhan
Sequential presents The Janus Project. During the next few weeks of this shiny new year cartoonists and critics and retailers will sound off on their favourite comics and comics-related moments of 2013 while also looking forward to things to come in 2014. (Thanks to Mark Connery for the great Janus comics graphic! Mark has a new book that will debut at TCAF this May: Rudy will be published by the Minneapolis-based 2d Cloud.)
_____
Next up on the Janus Project is Kevin Boyd.
Here's Kevin!
I fell in love with comics at a young age in the early 1970's, and it's a love that hasn't faded over the years — although we do get on each other's nerves pretty regularly!
I have been actively involved in the comics community for over two decades on a number of different comics related projects. Currently I am the owner of The Comic Book Lounge & Gallery (comic shop in downtown Toronto), the Associate Director for the Joe Shuster Awards for Canadian Comic Book Creators, and an Overstreet Comic Book Price Guide adviser.
My Favourite Moments of 2013.
Certainly seeing Katherine Collins' Canadian Comic Book Creator Hall of Fame acceptance video was a highlight. Watching her enthusiasm for comics rekindled, as well as the potential of a Neil the Horse collection was inspiring.

A personal highlight was attending the retailer meeting in Chicago back in April and hearing directly from the various sales reps, getting a feel for the companies as opposed to the products which I review on a weekly basis when they arrive at the store. I always enjoy getting perspective, and the American publishers are a real mixed bag, from stoic linebackers, to gleeful cheerleaders to sarcastic fat cats. The flipside – i.e. negative, of this experience was going back and watching people nostalgically embrace the comics of the sarcastic fat cats and ignore pretty much everything else.
They say we are in the Golden Age of comics reprinting, and 2013 was certainly a banner year for this, and publishers like Fantagraphics, Dark Horse and IDW are out there doing an amazing job in representing the classic strips and forgotten comics of the past. From the Ditko Library, the American Library of Comics, Yoe Books, the EC Library, Artists Editions, Masterworks, Archives, the Simon & Kirby Library and more. One wonders if the well will ever run dry, but then there will be an announcement of another archival collection to remind one of how much material is actually out there left to be unearthed.
For an anniversary year, Superman's 75th was a bit of a dud. The Man of Steel movie was as violent and heartless as the comics the character currently appears in, and I thought it interesting that the most enthusiastically supportive endeavour was the Canada Post / Royal Canadian Mint promotion of stamps and coins which was unbelievably popular with the stamps and coins selling briskly.
Favorite Comic Books of 2013


East of West (Image)
Fatale (Image)
Hawkeye (Marvel)
Batman 66 (DC)
Superior Spider-Man (Marvel)
The readers of Sequential may dismiss the presence of mainstream superhero comics on this list, but from the sheer nostalgic fun of Batman '66 (especially when illustrated by Ty Templeton and Joe Quinones) to the chance-taking Hawkeye to the high concept and often aggravating direction of the Superior Spider-Man there is room for corporate comics to take chances and create fun comics and not soulless cash grabs. Marvel in particular had a good year with other titles like All-New X-Men, Uncanny X-Men, Avengers, New Avengers, Thor God of Thunder and Infinity.
Image Comics continues to generate the most interesting original content in monthly and semi-monthly comics and East of West and Fatale are my personal choices, although there are many others that could also be on this list such as Saga, Lazarus, Velvet, Walking Dead, Invincible, Revival and more. Certainly the readership have embraced Saga, since it outsells most mainstream comics and has become the comic you will mostly give to your non-comics reading friends to try out.
Favourite Graphic Novels of 2013


Battling Boy (:01 First Second)
Richard Stark's Parker: Slayground (IDW)
The Fifth Beatle (Dark Horse)
Bandette Vol. 1: Presto (Dark Horse)
Sabertooth Swordsman (Dark Horse)
Favourite Reissues of 2013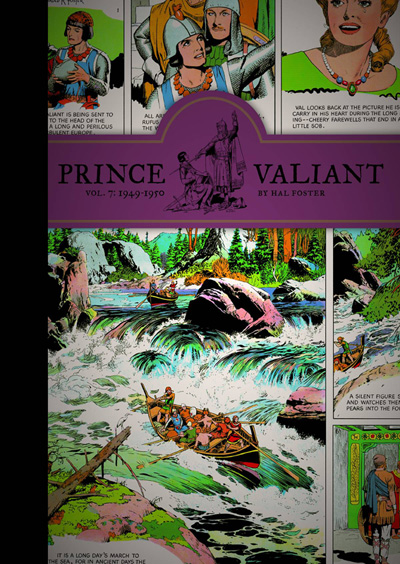 Paul Joins the Scouts (Conundrum)
Prince Valiant Vol. 7 (Fantagraphics)
Tarzan: The Sunday Comics 1931-1933 (Dark Horse)
Best of EC Comics Artists Edition (IDW)
Scott Pilgrim Vol. 4 Colour Edition (Oni Press)
Many honourable mentions like the Walt Disney's Mickey Mouse by Gottfredson hardcovers, the Flash Gordon/Jungle Jim collections, the EC Library collections, Titan's Marada the She-Wolf and a bunch of Artist's Editions (Mad, Jack Davis, Mark Schultz).
Favourite Books about Comics 2013


Marvel Comics: The Untold Story by Sean Howe
Super Boys by Brad Ricca
Woodwork: Wallace Wood 1927-1981
Genius, Illustrated The Life and Art of Alex Toth
DC Comics: The Silver Age by Paul Levitz
Most Anticipated for 2014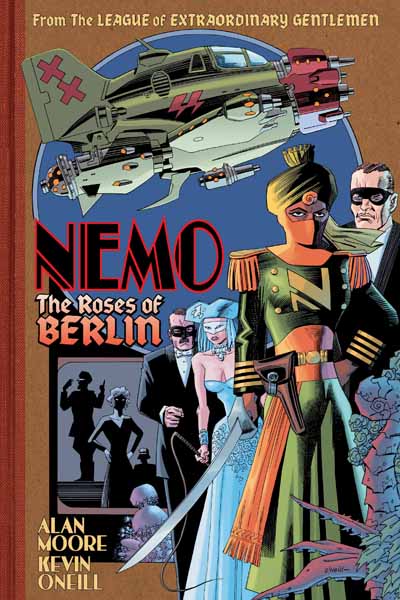 Genius, Animated – The Cartoon Art of Alex Toth
Miracleman
Nemo – the Roses of Berlin
The Compleat Cannon by Wally Wood
Prince Valiant Vol. 8
On a final note, a pretty decent year for comics in general. As for comics by Canadians, I'd say it was an okay year and I'm restraining myself while I'm assembling the master list of 2013 comics by Canadians. We were certainly very active and visible in 2013, so I'll be curious to see who the nominating committees select for the 2014 Joe Shuster Awards.

Janus Comic Strip by Mark Connery