With the unprecedented situation that the novel corona virus is causing, including comic stores closing and conventions being cancelled or postponed, Canadian comic creators are doing their best to keep positive and keep sharing their art. In uneasy times, art is a great escape and can help ease anxiety and pass the time.
Comic books have always been the perfect art form to adapt to any real world situation from world wars to the great depression, they have been there to entertain. For this situation, Canadian creators are offering free digital comics, deals, and streaming their art in order to connect with fans. Below is a list of these which will be occasionally updated as the situation progresses. Support Canadian creators in any way you can so we can continue to have a vibrant comic community at the end of this crisis.
As always Sequential Magazine is available for pay what you can digitally on our gumroad page and print copies are still for sale.
New Updates!
Mirror Comics' Dominic Bercier
Dominic is offering a special digital bundle of his comics on his gumroad page for pay what you can $1+ (due to gumroad restrictions on free items a bundle this large must be at least $1). It includes:
8 Books [Comics, Graphic Novels, an Illustrated Poem and some Songs]
Page Count 400+ pages
Original Price $40.00+ VALUE
The Saga of the Jack of Spades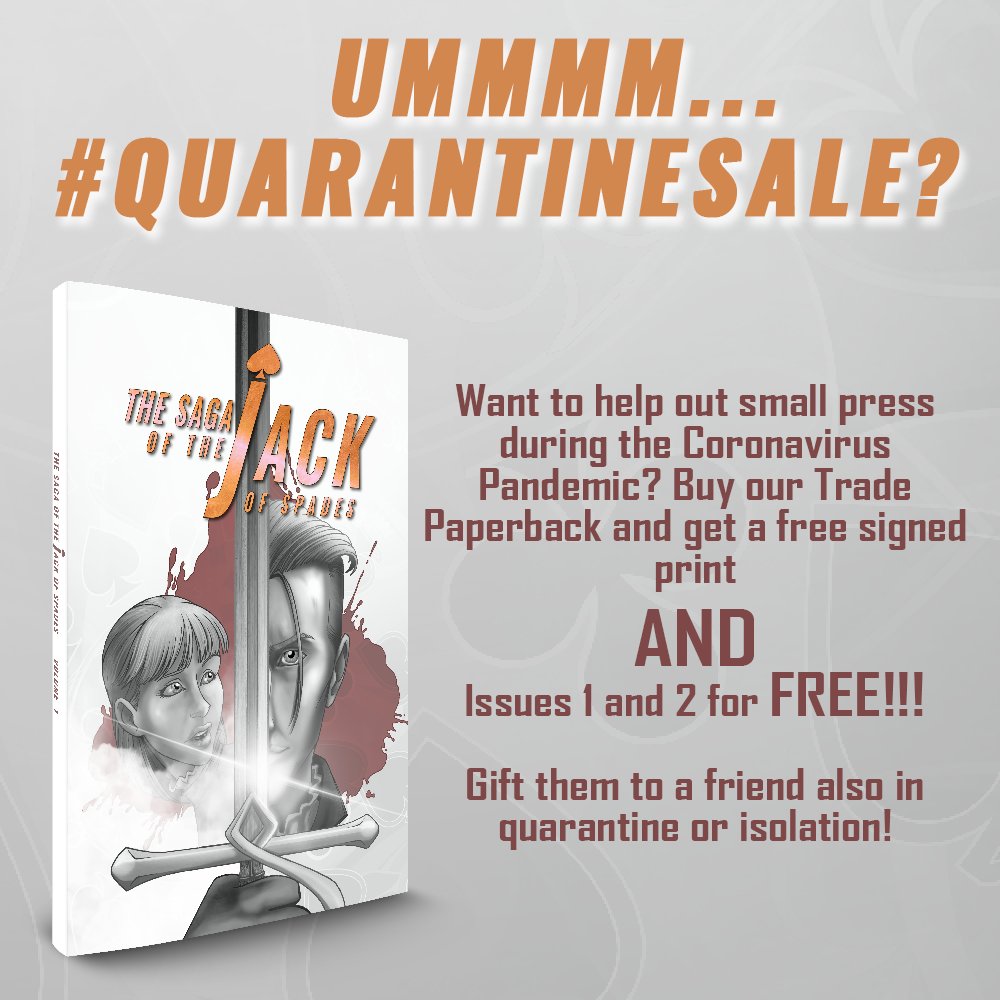 Chase Kantor and Daniel Scneider's The Saga of the Jack of Spades graphic novel published by Renegade Arts and Entertainment has a special deal for online orders from their website.
Every purchase of our 144-page Trade paperback will come with a FREE print and Issues 1 and 2 COMPLETELY FREE!!! No need for discount codes. It will be automatically applied to every order.
Why do you need Issue 1 and 2 if you're getting the Trade, you may be asking? Well, here's where you become that cool comic friend: share them. Share them with another friend in self-isolation. If you need to have the single issues shipped to a separate address, shoot us an email with your order# and we can arrange that as well OR we can give you a link for a pdf download if they're in quarantine.
Group of 7 Comics
Chris Sanagan and Jason Lapidus' historical fiction series about Canadian historical figures on secret missions in WW2 is making all of their digital copies pay what you want through gumroad. You can also order print copies on their website to support them.
Auric of the Great White North
Timmins Ontario's hero of Northern Ontraio Auric of the Great White North by David Dewsbury and Andrew Thomas is making all digital copies free to download on their website for a limited time.
This Canadian superhero series won Best Comic Book and Best Writer in this year's Sequential Magazine Awards!
Toronto Comics Anthology
The popular and critically acclaimed anthology series of short comics set in Toronto is making digital copies available for pay what you can through gumroad. 5 Volumes and two shorter issues give you 1000 pages to dive into from a huge variety of Toronto creators. Learn more about Toronto Comics on their website.
Daniel Schneider's Twitch
Daniel Schneider is running art education classes on Twitch and some late night drawing sessions. Those interested in illustration and art for comics could pick up a thing or two instead of just watching kids play video games.
Sharon Gauthier is another Canadian web comic artist and colourist who frequently streams on Twitch at https://www.twitch.tv/illustratrix
And so many more!
This post is getting quite long so to keep things manageable here is a list of other creators to check out with offers which may or may not be pandemic related.